DA, North Star partner for contract growing arrangement of INSPIRE beneficiaries
Date Posted:
January 18, 2022
Publisher:
Department of Agriculture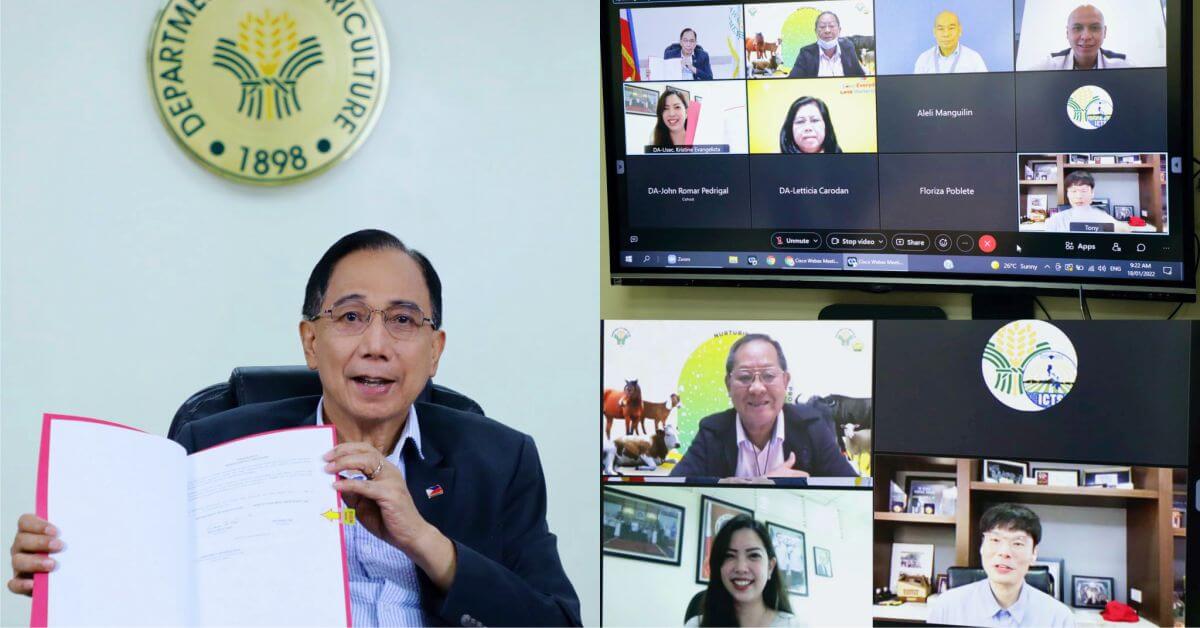 The Department of Agriculture (DA) signed a Memorandum of Understanding (MOU) with the North Star Meat Merchants, Inc. (NSMMI) to intensify DA's initiative in restoring vibrant situation of local hog industry through its Integrated National Swine Production Initiatives for Recovery and Expansion (INSPIRE) and Bantay African Swine Fever sa Barangay" (BABay ASF) program.
On January 18, Agriculture Secretary William Dar and NSMMI President Anthony Ng led the ceremonial signing of MOU for a partnership that will link small hog growers' beneficiaries of INSPIRE to pursue a Contract Growing Arrangement (CGA) with NSMMI.
This is in support of DA's goal of reviving the local hog growers and providing affordable, local fresh-chilled, and frozen pork for the consuming public.
"I would like to believe that in every step of the way we need to look at opportunities for us to be able to link various stakeholders, in this case, our local producers, on our main objective towards enhancing capacity and looking forward always that the local hog industry progresses," Sec. Dar said stressing DA's goal to ensure national food security.
He added that during the times when there is supply gap, the Department works to augment the local inventory by bringing in supplies from other countries so that affordable produce are made accessible to help consuming public in general.
"This year, we hope to have more resources to enhance our repopulation program for the hog industry, and also to encourage private sector to come forward and invest. I understand that there are components in the private sector that are now moving forward and investing in a big way, but we also want members of the industry to start enhancing their investment and see to it that containing and managing the ASF will always be elevated and sustained," he said.
The agriculture czar also urged private sector to help government in the development of vaccine for ASF.
Under the MOU, the DA, through its Agribusiness and Marketing Assistance Service (AMAS) will assist the beneficiaries of the INSPIRE Program in marketing and market linking.
DA-AMAS will also assist NSMMI in the monitoring of participating small hog growers to ensure performance of responsibilities in the CGA; provide complementary support to small hog growers such as linking them to feed companies or facilitate training on hog production and meat handling; and facilitate the participation of hog growers in accessing financial assistance through microfinance institutions and other credit facilities for improved hog production.
NSMMI, for their part, will provide a checklist of requirements including quantity/volume, quality, and price to DA; coordinate directly to the small hog growers the specific requirements on hogs and the mode of delivery; provide training in hog production and food safety and meat handling to the small hog growers; administer payments directly to the small hog growers after successful transactions; and issue feedback to the DA should dilemma arise in the CGA.
"The Philippines pork producers have always been in the frontline of the country's food security and self-sufficiency goals. To further assist small pork producers and cooperatives from the devastation of ASF, we commit to sustainably purchase, process, and distribute their production to our retail chains. Hopefully, this will inspire the confidence of our farmers to produce more pork. We would like to thank Sec. Dar, Usec. Evangelista and the whole OneDA family for all the work they have done for this industry," Ng said.
"Hopefully, by doing a small part, we at the North Star may assist you to achieve and sustain the country's food availability, safety, accessibility, and affordability. We hope this event will inspire all industry players to further their efforts in assisting our country's farmers and cooperatives. We firmly believe that through collaborative efforts between all the players in the private and government, we can achieve self-sufficiency and food security," he added.
The MOU signing was witnessed by Undersecretary-Designate for Livestock William Medrano, Undersecretary for Consumer and Political Affairs Kristine Evangelista, Senior Assistant Vice President for Supply Chain and Logistics of SM Supermarket Rey del Valle, WalterMart General Manager Rosemarie Caalam, and NSMMI Chief Financial Officer Jed Tan.
The DA and NSMMI are set to draft the guidelines for the proper implementation of CGA.